10 Ways Coronavirus is Changing Consumer Behaviour in the UK
Published: 14. May 2020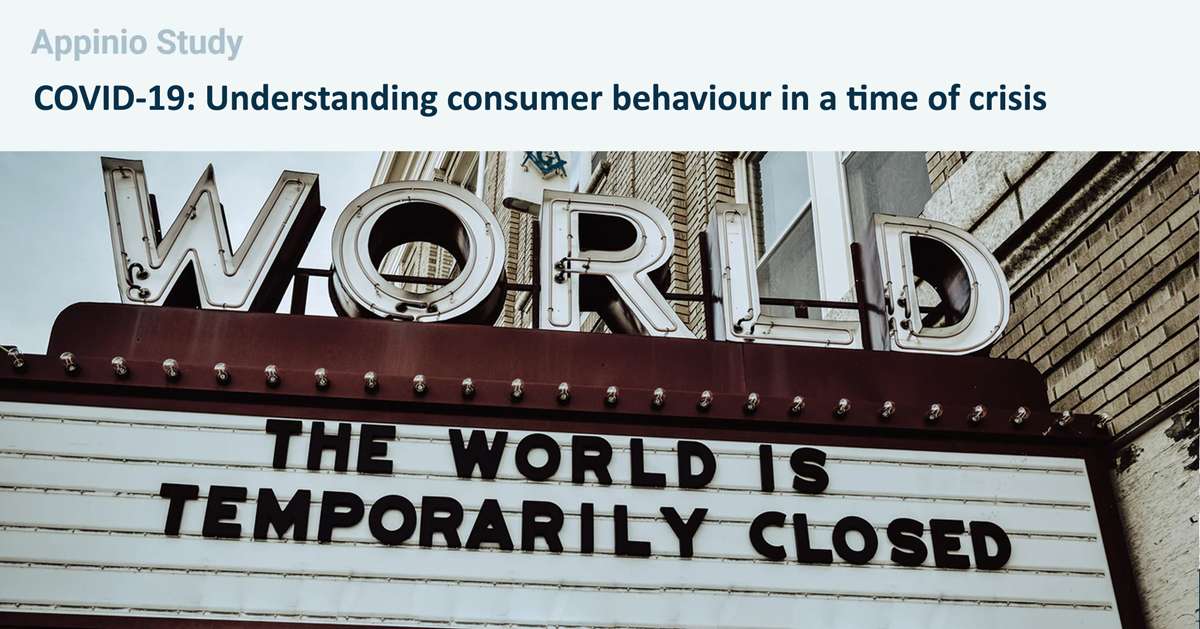 The market research platform Appinio has investigated the effects of the COVID-19 (coronavirus) pandemic on the everyday life and consumer behaviour of Brits. For this purpose, market research platform Appinio surveyed 1,000 Brits between the ages of 16 and 65 on a representative basis twice.
The studies cover, among others, the following areas: concerns about health, information procurement, behavioural changes, buying behaviour for food and non-food products, changes in off- and online shopping and brand loyalty.
The results presented are only an excerpt from the study on the leisure and consumption behaviour of Brits during the coronavirus crisis. The complete study results can be downloaded free of charge.
Top 10 Insights from the consumer study


Shift from offline to online shopping during and after the crisis
47% say they will keep using stores for fewer purchases even after the crisis - 52% are now buying more online than before while only 41% were doing that 4 weeks ago.
Coronavirus as an opportunity and a challenge for e-commerce
Can online shops keep up with the high demand and expectations of their customers? 55% of online shoppers already had a negative user experience when shopping online during the crisis.

Stronger focus on corporate social responsibility
Even or especially during these challenging times the majority of Brits (79%) are expecting companies and brands to show social commitment.

Increasing acceptance for marketing campaigns linked to coronavirus
Only 9% of Brits are perceiving advertisements related to coronavirus negatively - 34% now perceive them (very) positively while that was the case for 29% 4 weeks ago.

Concerns about long-term effects of the crisis are increasing
44% are now worried about the long-lasting economic consequences of the crisis while only 36% named them as one of their biggest fears 4 weeks ago.

The pandemic is changing the Brits' ways to work - long-term adjustments or short-term responses?
52% of the working population are already working from home - 39% did so 4 weeks ago. Now, 34% of them can imagine doing most of their work from home even after the crisis.

Health of family & friends at the centre of the Brits' concerns
As the coronavirus pandemic continues, the worry about a potential risk of infection is increasing - 4 weeks ago the risk of infection for family & friends was already the biggest fear of Brits in regard to coronavirus. Now, even more Brits name it as one of their biggest fears (61% vs 55%).

Increasing share of Brits is taking preventative measures to reduce the risk of infection
By now 18% of Brits are wearing face masks to reduce the risk of infection while only 9% were doing that at the earlier stages of the crisis 4 weeks ago. However, the use of face masks is still far behind the 3 most common preventative measures taken, which are: Washing hands more often (79%), avoiding crowds (78%) & avoiding public transport (67%).
Coronavirus is forcing Brits to be more open to digital apps
Many Brits are using video-calls (28%) or services like home-delivery of groceries (16%) for the first time because of the crisis - most first-time-users say they'll keep those new habits.

Adapting leisure activities and thinking politics
While coronavirus led more than half of Brits to watch more TV, stream video content or improve their cooking skills, it's also causing some Brits (15%) to rethink their opinion about Brexit.
The full report contains more than 35 pages of consumer behavior insights focusing on topics like general concerns, concerns about health, sources and trust of information, changes in leisure activities and hobbies, grocery shopping behavior and brand loyalty.
More about Appinio
Appinio is the global market research platform that enables companies worldwide to obtain thousands of opinions from specific target groups in just a few minutes. For the first time, anyone can validate decisions and ideas in real time - with representative results from consumers. As the fastest solution for market research, Appinio delivers feedback from 50+ markets.