Design-Test: How to Test a Logo?
Introduction
A logo is the figurehead of a company. Therefore, marketing experts need to know potential customers' opinions on their logo and how they perceive different designs. But how do you test which colour combination or line width is appealing to the customer? Which logo design makes the company stand out from the crowd?

Whether rebranding a branch of a company or launching a new brand, choosing a representative logo is a challenge. In addition to creative decisions such as a clear and straightforward design, a logo should above all convey brand personality and reflect the values an organization stands for.

It should be meaningful and distinctive so that it is immediately memorable and creates a connection to the target group. These are many requirements for such a small graphic.

Frequently, designers and managers have to choose from a variety of logo designs and cannot come up with a satisfactory result. Individual designs are over-interpreted, and the whole process costs time and, above all, nerves.

It is usually helpful to seek outside advice to find a satisfactory solution. A person who has nothing to do with the project will add value to the creative process. More generally, the opinions of those who are to be addressed by the logo are missing. So why don't we simply ask potential customers themselves what they like?

A logo test is a standard design test. Appinio's market research experts have written guidelines on how a logo test works (for more design tests, click here).
I. Logo-Test by Survey
Does the logo seem boring or exciting? Is it traditional or modern? A survey is an excellent way to determine your target group's reactions to your logo.

Specific question types allow both direct feedback on one logo design and the comparison of several. Two things have to be considered to find out whether the logo is relevant for the target group:


Who is the target group to be interviewed?
Which questions should be asked to find the right logo?

A target group analysis is, therefore, a prerequisite for a logo test. In our example, we take coffee drinking young people between the ages of 18 and 30. However, the more precisely defined, the better.


II. Individual Evaluation of a Logo
A single "either-or" quickly leads to a conditional decision - even if none of the logo variants appeals. This cognitive process makes it even more important to first check each logo before comparing them.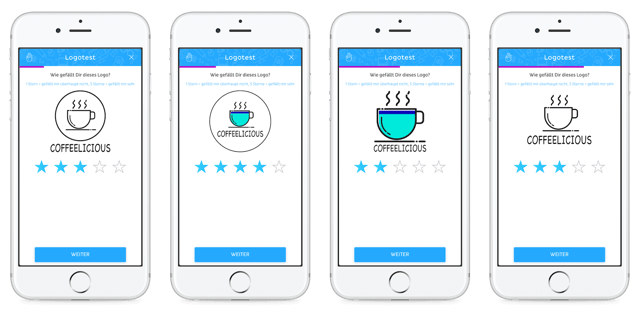 Logos, as well as other advertising media, should always be evaluated individually in a first step. Feasible options are star ratings (very familiar to most people) or ratings based on school grades using a scale question type.
III. Ask about Associations
The second step is to ask specifically which logo the user most likely associates with the desired terms (enjoyment, relaxation, etc.). Consequently, we receive an individual evaluation of the different logos. A simple multiple choice question type is suitable for this query.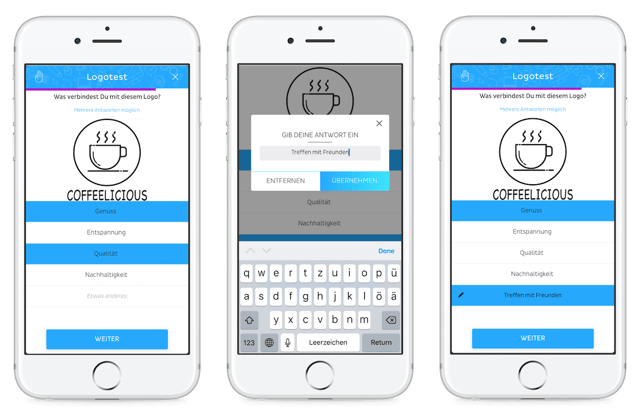 IV. Concluding Direct Comparison
But what if individual logos are very similar and are rated almost equally by users?

A direct comparison should be carried out at the end of the survey, i.e. a query with all the options. The comparison will provide useful insights once again. Even if the logos are very similar in their evaluation, a direct comparison will help to classify the overall result better.

Alternatively, this direct comparison could also be carried out with the help of a ranking in which the users sort the different logos or images according to preferences. However, the type of direct comparison that ultimately makes sense can still be clarified in individual cases.