Kano Analysis: The Complete Guide
1. Introduction
Product and service developments pose great challenges for every marketing, innovation, product and brand manager. The most important question is: Which features have which impact on the satisfaction of my (potential) customers?

Usually, many ideas are available, but not all ideas can (and should) always be developed (directly). The art of any product manager is to prioritise the development of product/service features in a customer-centric way and to answer the following questions:
What features does my product/service need to have?
Which features create a wow-effect?

To do this, marketers need to know what features they are communicating to set themselves apart from the competition.The earlier in the product life cycle these decisions are made, the better. The basis of this decision should not be the gut feeling of a developer or manager but should reflect the opinion of the end-users.

A survey using the Kano methodology makes this possible. The results not only simply show which product features are rated positively or negatively, but also reveal in detail what effect they have on customer satisfaction.


A distinction is made between the following categories:


Basic features
Performance features
Attractive features
Neutral/irrelevant features
Reversed features

In the following article, we explain why and how you should use the Kano method to design your product/service according to the requirements of your target group based on a simple example.


2. What exactly is the KANO method?
The Kano Method has a long history: it was developed as early as 1984 by Japanese Professor Noriaki Kano of the Tokyo University of Science.

Professor Kano was convinced that a product or service is about much more than functionality. After all, not every feature added to a product ends up having the same effect, or any effect at all, on a customer's satisfaction.


In order to evaluate features/properties, they are classified into five different categories. These are based on the effect they have on customer satisfaction:

1. Basic features (Must-Be's):
Are always expected by customers and cause strong dissatisfaction if not present. However, increases in satisfaction cannot be achieved with the presence of the feature.
Example: Telephone function of a smartphone



2. Performance features (One-dimensional):


These features have a linear relationship to customer satisfaction: the less pronounced they are, the less satisfied consumers are. The more pronounced they are, the higher the customer satisfaction. They need to match customer expectations and be of the same quality as those of competitor products.
Example: Resolution of the camera of the smartphone

3.Attractive features (Attractive):

These features are not expected by customers but are well-received if they are present. If they are not present, consumer satisfaction is not negatively affected. These are the features to beset differentiate from competition.
Example: Free case delivered with a smartphone

4.Neutral/indifferent features (Irrelevant):


These factors do not add value for customers and do not have an impact on satisfaction, either when present or absent.
Example: Number of ringtones on the smartphone



5. Reversed features (Reversed)

Unwanted features that reduce customer satisfaction when present.
Example: Permanent tracking of the smartphone

The following diagram of the Kano model of customer satisfaction illustrates the effect of the different categories on customer satisfaction when implemented or not.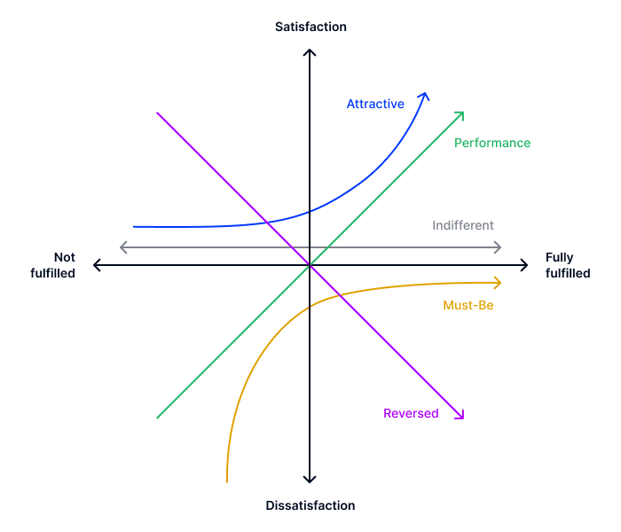 However, a feature cannot always be clearly assigned to a category. Different customer groups derive different benefits from different features. The perceived benefit of a feature may differ depending on the target group considered. Therefore, it is essential to have a separate Kano analysis for different target groups.
In addition, the evaluation of product features must always be considered in the context of time. Some features that caused excitement a few years ago (e.g. the ability to play music on a mobile phone) are now expected basic functions that are taken for granted by the target group.


More questions about the KANO method? Talk to our experts.
Open live chat
3. How does the KANO method work (with Appinio) - A Step-by-Step Guide
A survey based on the KANO method is simple and efficient to carry out. Each feature is interrogated with a so-called functional question and a dysfunctional question, each with the same answer options:
Functional question: What do you think about product X/service X having feature Y?






Dysfunctional question: What do you think about product X/service X not having function Y/function Y not having?





Step 1:
Step 2:
Go live with your survey

Our professional market researchers do a final check of your survey before it goes live.
Our panel answers your survey immediately once it is live.


Step 3:
Analyse your data:

Analyse your data in our interactive dashboard in real-time
The results of the KANO survey are automatically calculated and visualised in two ways: with a categorisation of the factors in tabular form ("discrete analysis") and additionally in the form of a scatter diagram to take fine trends into account ("continuous analysis"). Accordingly, the results can be used immediately for decision-making.
The filter functions help you to analyse the effect of features on different target subgroups
Export your results to Excel or CSV at any time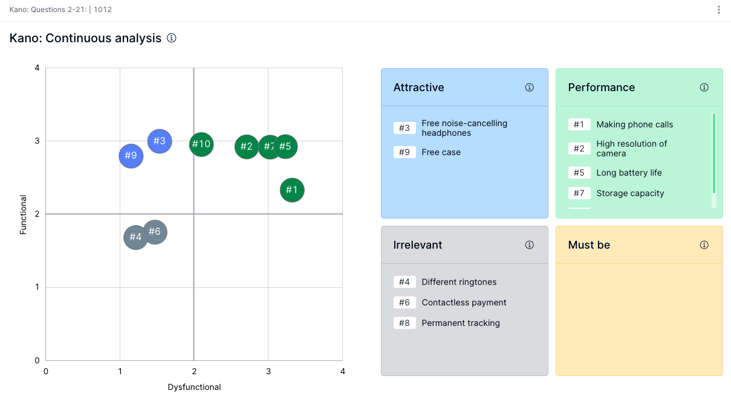 4. What are the advantages and disadvantages of the Kano method?
Advantages:
Efficient and easy identification of (potential) customers' needs and desires.
Can be applied at any stage of the product life cycle of every digital and non-digital product to evaluate and prioritise product features.
The evaluation of the product-market fit becomes simplified as the right priorities can be set early in the life cycle.
Especially for product managers, a Kano Analysis can help to create the right roadmap for a product.
It is particularly helpful in evaluating new product ideas and potential improvements, as well as considerations for communicating certain product features that differentiate from the competition.


Disadvantages:
Potential features must already be known beforehand:
To determine potential features, various analyses of the market (e.g. competitor analysis) and the customers (e.g. with the help of interviews and quantitative requirements analyses such as the MaxDiff) help.
If many features are to be tested, surveys sometimes become very long and tiring for the respondents
IV. Conclusion
The Kano method leads to an efficient and easy identification of (potential) customers' needs and desires. It can be applied at any stage of the product life cycle of every digital and non-digital product to evaluate and prioritise product features and is especially helpful for product managers to create the right roadmap for the product. However, potential features should be known beforehand as a Kano analysis will not provide you any ideas for it but is rather for evaluation.
If you want to get started right away, talk to our experts.