Appinio receives B Corp certification - as one of 6000 companies worldwide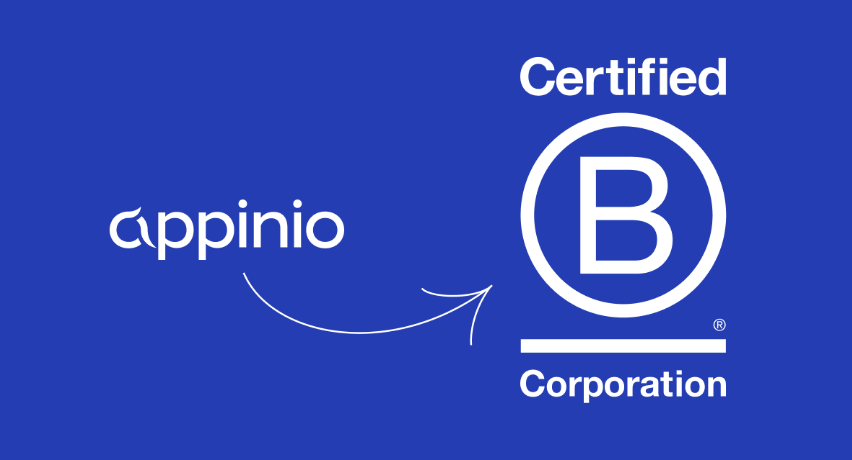 As of February 2023, Appinio officially carries the B Corp certification (Benefit Corporation). This makes the Hamburg-based market research institute one of 6000 companies worldwide that are allowed to carry the strictly controlled B Corp label and joins companies like Patagonia in their fight for a better future.
You'll find out more about the B Corp certification and what it means for Appinnio in this blog post.
What is a B-Corp certification?
A B Corp certification is a certificate awarded by the independent non-profit organization B Lab. The "B Corp" label certifies that companies have a sustainable and holistic approach to economic, environmental and social activities, while at the same time focusing on public transparency and legal accountability. To receive this certification, companies must meet strict standards in the areas of environmental performance, working conditions, ethical business practices and social commitment.
This certification is a symbol for companies that want to be transparent about their sustainability and social responsibility efforts. Unlike traditional companies, B Corps are required by law to consider the impact of their decisions on all stakeholders. As a result, their business operations focus on positive impacts on the environment, employees and society at large.

"B Corp is using its economic power to address the most pressing global challenges and positively impact our society, but more importantly, our planet. The certification validates our commitment to a more sustainable future and demonstrates that we can deliver real value not only to our customers, but also to society and the planet," says Jonathan Kurfess, founder of Appinio.
Statement for social and ecological responsibility
As individuals and businesses, we have a social and environmental responsibility to create a sustainable future for all. We must be aware of how our decisions and actions affect society and the environment and strive to make a positive impact. Therefore, the B Corp label only reinforces Appinio's corporate philosophy of combining economic growth with responsible stewardship of customers, employees and the environment.
Appinio teams up with selected partners to uphold our commitment to the UN SDGs, measuring our outputs using Science Based Targets initiative (SBTi) criteria and aiming to reduce our emissions across scopes 1 to 3.

"As a B Corp, we are committed to constantly reviewing and transparently reporting on our social and environmental impact. We want to set a good example and demonstrate: building a profitable, high-growth business only comes with a commitment to the people around us and our environment. We hope that other companies will follow our example," says Kurfess.
A responsible company's philosophy
In addition to focusing on ecologically compatible actions, the B Corp label also focuses on a company's social responsibility and the well-being of its own employees. Among other things, it examines how well the company looks after the health, social security and professional development of its workforce. But it also looks at the extent to which the chosen business model benefits employees, for example the flexibility of working hours so that everyone has physical and mental space to recover, in order to perform to the best of their ability and to develop freely professionally within the company.
Background and Requirements for the B-Corp Certificate
Benefit Corporation, or B Corp, was created in 2006 and is the first and so far only certification for companies that meet the highest standards for social and environmental performance, public transparency and legal accountability. With the label, the NGO B Lab honors companies that act sustainably not only on the basis of individual products or services, but as an entire company. A fundamental principle is the public transparency and legal accountability of the awarded company.
In order for companies to receive a B Corp certificate, they must fulfill a number of requirements. On the one hand, commitment to social and environmental goals must be demonstrated. On the other hand, business practices and the impact of the company's activities on society and the environment are examined.
More information on the B Corp label and the NGO B Lab is available on their website.
About Appinio
Appinio is a global market research company based in Hamburg, Germany. The company revolutionizes market research by enabling brands to survey specific target groups and obtain representative results within minutes. Appinio delivers consumer opinions from more than 90 markets and over 2,000 companies from all industries use Appinio.
Join the loop 💌
Be the first to hear about new updates, product news, and data insights. We'll send it all straight to your inbox.
Subscribe to our newsletter