Hit the Road, America: Exploring Trends and Insights for Travel and Tourism in the US in 2023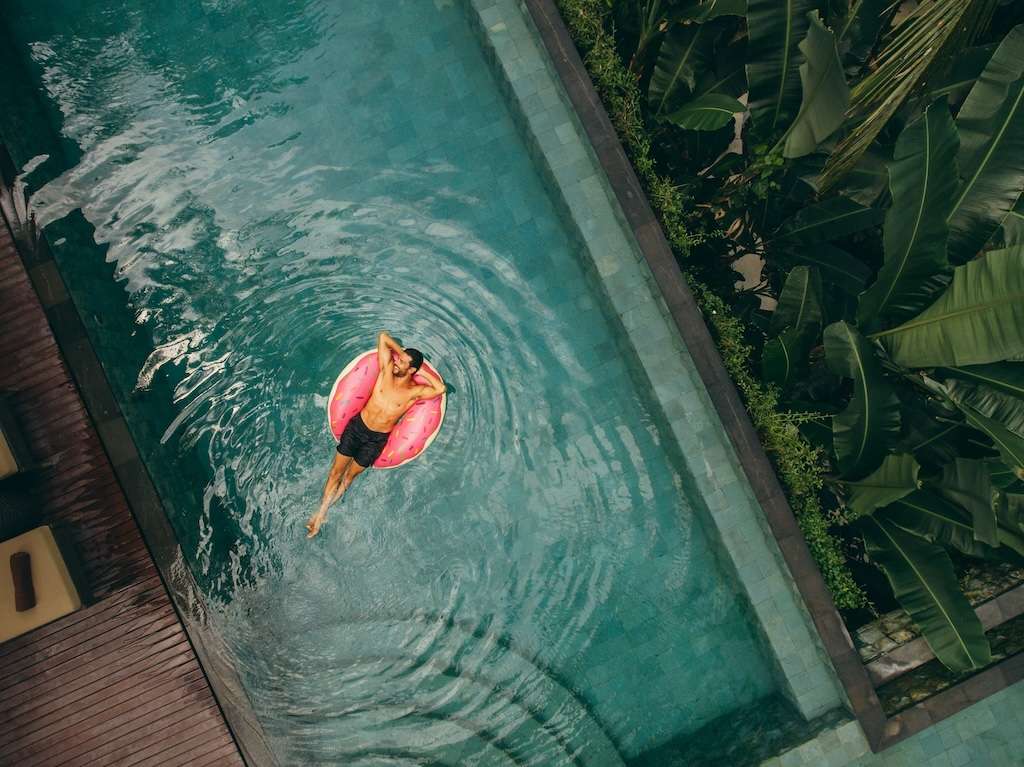 Is life a pendulum constantly swinging between the PTO (paid time off) you just had and the next PTO you're going to request?
Luckily for you, the Appinio Hype Tracker is here to sweeten this in-between time.
The travel industry is an interesting one as it has seen its fair share of changes and challenges in recent years. From the ongoing impact of the COVID-19 pandemic to the growing awareness of sustainability concerns, there's much to unpack. We'll delve into the heart of these matters and provide you with a detailed look at how American travelers are navigating this dynamic landscape.
Appinio has surveyed a nationally representative sample of 1000 Americans, and investigated everything from travel frequencies and accommodation preferences to the burning questions about sustainability and the overtourism phenomenon. By the end of this blogpost, you'll have a comprehensive overview of the state of the US travel and tourism industry in 2023, and a wealth of statistics, facts, and insights to keep you informed and inspired.
Key takeaways from the Appinio Hype Tracker Report on travel & tourism
Big on domestic travel
Domestic travels keep driving the industry in the US. American holidaymakers keep exploring the wonders of their home country.


Travel behavior in 2023
Soaring inflation led to reduced travel frequency and closer-to-home destinations. Travel companions varied, with family travels being the most common ones. Off-peak travel gained popularity, offering quieter and more affordable experiences.


Sustainability and climate-conscious travel
American travelers are starting to place importance on sustainability in their travel decisions. Many seem to be willing to pay more for climate-friendly options when traveling, i.e. paying more for accommodations. However, there is a reluctance to limit air travel, possibly due to short PTO and the desire for longer, more relaxing vacations.
💡 Ready for take-off? Then download the Hype Tracker Report for free!


Status quo of the travel & tourism industry in the US
The travel and tourism industry is dynamic by nature and is constantly shaped by factors such as global events, evolving consumer preferences, and technological advancements. But since the COVID-19 pandemic, the industry has been struggling to find its footing, we could say, it got long covid.
Domestic leisure travelers have historically accounted for the majority of travel spending throughout the country. In 2021, the total direct travel spending of domestic leisure travelers in the US amounted to 751 billion US dollars. Meanwhile, during that same year, international travel spending in the US amounted to only 40 million, Statista says.

The firm has also projected that the revenue in the Travel & Tourism market is to reach US$190.40bn in 2023, and that revenue is expected to show an annual growth rate (CAGR 2023-2027) of 3.17%, resulting in a projected market volume of US$215.70bn by 2027.
Travel behavior of American holidaymakers in 2023
Yet US holidaymakers are undeterred.
The disruption of travel altogether and business-as-usual practices was so profound that issues emerged during the pandemic that keep interfering with travelers till this day.
American travelers had to fight with higher prices than usual, cancellations, long waits and poor customer service: the airline industry is still struggling to catch up to this newly found hunger for travel.

According to Forbes Advisor: "Now that we've made it through the initial push of revenge travel, there's reason for travel demand to slow down. Continuing inflation, mass layoffs and a potential recession are impacting households."
Misery loves company, right?
The Appinio Hype Tracker Report shows that
46% (strongly) agree that due to inflation, they reduced the number of trips they made this year.
44% (strongly) agree that due to inflation, they chose holiday destinations closer to home.
Domestic vs. international travel
The debate between domestic and international travel remains at the forefront of travel decisions.
But Americans have made up their mind a long time ago: domestic travel beats international travel.


Nevertheless, international travel kept its allure.
Travelers seek adventures and sunshine abroad, as demonstrated by 37% of American holidaymakers having gone / going to international destinations.
The Appinio Hype Tracker data also show an interesting difference between age groups: Baby Boomers are the most likely to travel domestically (73%), while Gen Z the most likely to travel internationally (46%).
Long vs. short haul
The choice between long-haul and short-haul destinations is another important aspect of travel behavior.
Is a weekend enough to unwind or are Americans packing anti-jet-lag remedies with them?
It looks like Americans seem to prefer short trips (56%), the convenience and cost-effectiveness could be factors travelers take into account.
On the other hand, the promise of far-flung adventures, cultural exploration, and new experience continues to captivate a significant portion of American travelers (44%).
The Appinio Hype Tracker data also show an interesting difference between age groups once again: 45-54 years-olds are the most likely to do short trips (60%), while Gen Z are the most likely to do long trips (48%).
Travelling in company
American holidaymakers exhibit diverse preferences when it comes to companionship during their journeys.
Family vacations remain a cherished tradition for 36% of American travelers, 35-44 years-olds are the most likely to travel with family (42%).
26% of American holidaymakers traveled or will travel solo this 2023, Baby Boomers seem the most likely to do so (30%).
Couples seeking romantic getaways are a substantial portion of travelers, 20% of American travelers do so. Baby Boomers are the most likely to travel with their significant other (33%).
Group travel seems to be the least popular option, as only 17% had done so. Gen Z are the most likely to travel with a group (24%).
Peak season vs. off-peak
Travel patterns in 2023 reflect a noteworthy trend where American consumers are increasingly looking beyond the traditional peak season.
Nearly one in two (49%) are more inclined to travel off-peak. This means that many travelers are exploring the charm of destinations during the quieter months, taking advantage of smaller crowds and often more affordable prices.
Booking habits
The way Americans book their trip has evolved, reflecting the digital age's influence.
Over the years, there has been a significant shift towards online platforms and apps for booking flights, accommodations, and activities. These platforms offer convenience, a wide range of choices, and often competitive prices, in fact nearly two thirds (63%) of US travelers have been booking their accommodation online, both desktop and mobile.
However, traditional travel agencies still hold sway with a portion of the population (29%), especially for those who value personalized service and expert advice.
💡Need more insights to feed your roadmap to your holiday?
Americans' accommodation preferences
Accommodation is a critical piece of any travel puzzle.


Will the bed be comfortable enough, or are the pillows as hard as your mum's comments on your new haircut? Is the location nice and quiet, or would you need earplugs to be able to sleep? How are the vibes at the reception, is the staff helpful or are they scrolling on TikTok all day long?
These are all legitimate questions that every traveler asks themselves when booking an accommodation, hoping they haven't been scammed!


Let's deep dive into their habits and trends and understand what they are looking for.
Accommodation
When it comes to accommodation, American travelers display a wide spectrum of preferences.
Traditional hotels continue to be a top choice for 72%, offering a combination of comfort and amenities.
Vacation rentals like AirBnB or HomeToGo, and resorts come both in second (38%).
B&B ranked third at 27%.
When it comes to vacation rentals, vacation homes are the most popular choice (59%), followed by beach houses (56%), the latter ones being a must for 45-54 years-olds at 66%.
Cabins & cottages rank third (48%), but they are the go-to for Baby Boomers (52%).
Alternative lodging options
Beyond the conventional choices, travelers are increasingly embracing alternative and unconventional accommodations. Tiny houses, often nestled in picturesque natural settings, provide a cozy and minimalistic escape. Houseboats offer a unique way to stay right on the water, allowing travelers to drift off to sleep with the gentle sway of the waves.
These alternative options cater to those seeking an offbeat and memorable stay. However, these options are not often used by US travelers, 67% of them say they never used alternative lodging.
Despite looking like the cutest thing on earth, these accommodations often have limited space, making them less suitable for larger groups and extended stays. Comfort and amenities may not match traditional lodging, and accessibility, privacy, seasonal limitations can be factors to weigh. Safety, sanitation, and lack of standardization are also concerns, while high demand during peak travel times may affect booking availability.
Factors influencing accommodation choices
The factors influencing accommodation choices are multifaceted.
Budget considerations play a crucial role, 70% travelers seeking affordability when booking an accommodation.
Location, proximity to attractions, and the ease of transportation are also key factors for 63%.
Comfort, of course, makes it to the third place with 43% looking for a comfortable and pleasant accommodation to relax after a day of exploration.
39% look for the amenities like pools, gym or pet-friendly lodging, meaning that travelers are not satisfied with "just a place to sleep" anymore.
One third (32%) decide after careful research and take into account

reviews and ratings

.
Willingness to pay for premium amenities
Many (41%) American travelers are increasingly willing to invest in premium amenities that enhance their overall travel experience. These amenities can include spa services, fine dining, private pools, and more. The willingness to pay extra for such features demonstrates a desire for a higher level of comfort and indulgence during their trips.
💡 Packing for your trip? Then don't forget to download the Hype Tracker Report for free!


Insights into Americans' climate-conscious choices when travelling
As the travel industry in the United States evolves, one significant transformation is the increasing importance of sustainability in travel decisions. American travelers are now placing a greater emphasis on making environmentally responsible choices, from their accommodation to their mode of transportation.
Willingness to pay more for climate-friendly options
More than two thirds (67%) of travelers are willing to pay a premium / additional fee to choose a more climate friendly travel option. The desire to minimize the carbon footprint of their journeys has become a driving force behind their travel decisions.

However, when asked exactly how they'd like to contribute to a more sustainable way of travel:
48% would be willing to pay higher prices for accommodations,
35% would be willing to pay higher prices for transport,
17% would be willing to pay higher

city taxes

.
Efforts to be more climate-friendly
As climate change awareness continues to grow, some American travelers are contemplating the need to limit their journeys for climate reasons.
One third (33%) state they have been trying to reduce the number of their trips in order to be climate-friendly, but the striking majority doesn't think of refraining from traveling when and how much they want/can.
Willingness to limit travel for climate reasons
A small portion of travelers is willing to reduce their travel frequency or travel shorter distances to minimize their carbon footprint.
And, when asked whether they'll be willing to travel only once a year by plane, American holidaymakers were split, with 47% saying they wouldn't want to limit their air travel.
Unsurprisingly, Gen Z, the most vocal generation about climate change and the need to tackle the climate crisis as fast as possible, seem the most likely to be wanting to limit their travel. While Millennials seem the least likely to be limiting their air travel.
All considered, it is clear that this unwillingness to limit their air travel goes deeper than not wanting to be climate friendly.
Consumers may not want to give up air travels for multiple reasons:
PTO is often short, so having to spend more time traveling by train or car could actually shorten the holiday and dampen the relaxation effect a holiday is supposed to give.
For those living in one state or country but having family or business ties in another, air travel is often the most practical way to stay connected.
Air travel opens up opportunities for adventure and exploration, allowing people to discover new places and create memorable experiences.
The overtourism phenomenon
As travel and tourism continue to thrive in the United States, the concept of overtourism has started to make an appearance.
Overtourism represents a complex challenge, where the popularity of a destination can sometimes lead to adverse consequences, including overcrowding, environmental degradation, and cultural erosion.
Awareness of overtourism phenomenon
Overtourism has become a buzzword in the world of travel only recently.
In fact the majority (62%) of Americans have never heard of this term and 23% heard of the term but aren't sure of what that means.
It is clear that not many are aware of the challenges posed by overtourism, which often involves crowded destinations, environmental degradation, and strained local resources, and how this phenomenon will be changing the travel & tourism industry.
Many popular destinations like Florence, Venice (Italy) and Mount Fuji (Japan) are thinking of introducing a set number of visitors per day to limit disruptions.
The city of Florence has even introduced an Airbnb ban in the city center, as vacation rentals were robbing residents of housing.
Other regulatory measures are visitor quotas, limited access to sensitive areas, and the implementation of tourist taxes to manage the influx of visitors.


It's clear that economies heavily dependent on tourism are now starting to see the dark side of the tourists influx and are starting to think of measures for preserving the integrity of the destination and ensuring a positive experience for both travelers and local residents.
Attitudes toward measures to combat overtourism
In response to the overtourism phenomenon, American travelers exhibit a range of attitudes and opinions regarding the measures to combat it.
Nearly one in two (45%) Americans (strongly) agree with implementing measures against overtourism. However, and funnily enough, they wouldn't be willing to pay higher city taxes (previous slide), an extremely popular measure that most saturated holiday destinations have introduced.
The overtourism phenomenon is an issue that is still failing to capture the attention of American travelers, and their attitudes towards addressing it reflect their lack of knowledge.
New trends shaping the travel and tourism industry
The world of travel and tourism has been always witnessing fascinating transformations and several trends have been shaping the industry.
Luckily, we had an amazing expert to guide us and make sense of the travel and tourism industry: Jonas Upmann from HomeToGo, the marketplace with the world's largest selection of vacation homes.
Jonas is the Head of Consumer Communications, with expertise across content marketing, PR (digital and traditional), and SEO, alongside more than eight years of experience in one of Berlin's leading travel tech companies, Jonas is a seasoned industry professional and a true travel expert. Additionally, Jonas has lectured in PR at the Hochschule für Technik und Wirtschaft Berlin, and is employed as a guest lecturer for content marketing at the Swiss Zurich University of Applied Sciences with a focus on storytelling and the distribution of content. Combining a classic PR background with modern inbound marketing techniques, Jonas' focus at HomeToGo is driving impactful coverage of HomeToGo and the HomeToGo Group's brands on top domains, creating brand awareness and SEO visibility to increase organic traffic.
Jonas gave us insights on the newest and hottest trends in the travel and tourism industry.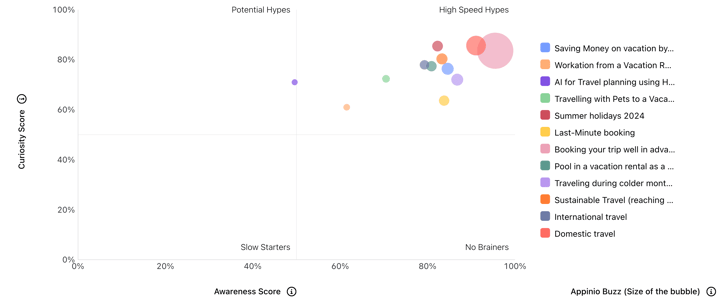 One such trend that's gained immense traction is the habit of booking trips well in advance. American consumers are showing a very high level of curiosity and awareness when it comes to planning their journeys, and the buzz surrounding this trend is the biggest recorded by the Appinio Hype Tracker. The idea of securing travel plans ahead of time is a hot topic of discussion in consumer circles, reflecting multiple consumers' needs, being cost-effective in this difficult financial period, but also having something to look forward to.


Domestic travel is a very big hype for Americans. This is the second biggest hype for buzz, and level of curiosity and awareness are also very high. This is explained by the bond Americans have with their country and their desire to keep exploring the United States.


Saving money by cooking in a vacation rental vs. dining out seem to win Americans' favor. It is the third biggest hype for buzz. The data reveals an interesting pattern where the trend of cooking at a vacation rental to save money versus dining out with high levels of curiosity and awareness. This suggests that the concept of saving money by preparing meals at a vacation rental resonates with a broad demographic spectrum and being on holiday doesn't necessarily mean always dining out.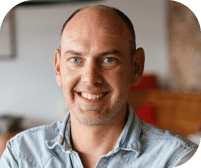 In the ever-evolving realm of travel and tourism, consumers are the biggest players, continually adapting to global shifts, emerging trends, and shifting priorities. The Appinio Hype Tracker Report on the status travel and tourism industry in 2023 has uncovered a rich tapestry of experiences, choices, and attitudes among travellers. From the impact of the COVID-19 pandemic and the resurgence of domestic tourism, the rise of sustainability consciousness, and the complexities of overtourism, travellers are embracing change with resilience and vigour. Looking forward to the travel landscape for 2024, it becomes clear that today's travellers are adapting faster than ever and keep looking for adventures, far away and closer to home. And these travellers will always find the right accommodation for every type of trip at HomeToGo.
💡What else are fellow travellers discussing when planning their holiday? Find out on the Hype Tracker!


Conclusion
In the ever-evolving realm of travel and tourism, the United States stands as a dynamic player, continually adapting to global shifts, emerging trends, and shifting priorities.
The Appinio Hype Tracker Report on the US travel and tourism industry in 2023 has uncovered a rich tapestry of experiences, choices, and attitudes among American travelers. From the impact of the COVID-19 pandemic to the resurgence of domestic tourism, the rise of sustainability consciousness, and the complexities of overtourism, American travelers are embracing change with resilience and vigor.
Join the loop 💌
Be the first to hear about new updates, product news, and data insights. We'll send it all straight to your inbox.