Craft better questions, get smarter answer options, and build surveys in minutes.
Generate high-quality questions and insights, significantly reduce research workloads
Explore how we use AI to make research easy and accessible to everyone.
Seamless question refinement
Time-consuming question formulation is a thing of the past. Use AI to effortlessly refine and enhance survey questions based on a single keyword.

Answer options, redefined
Say goodbye to manual data entry. Generate precise answer options for multiple-choice questions and matrices. Accept, reject, or customize suggestions to ensure your surveys hit the mark.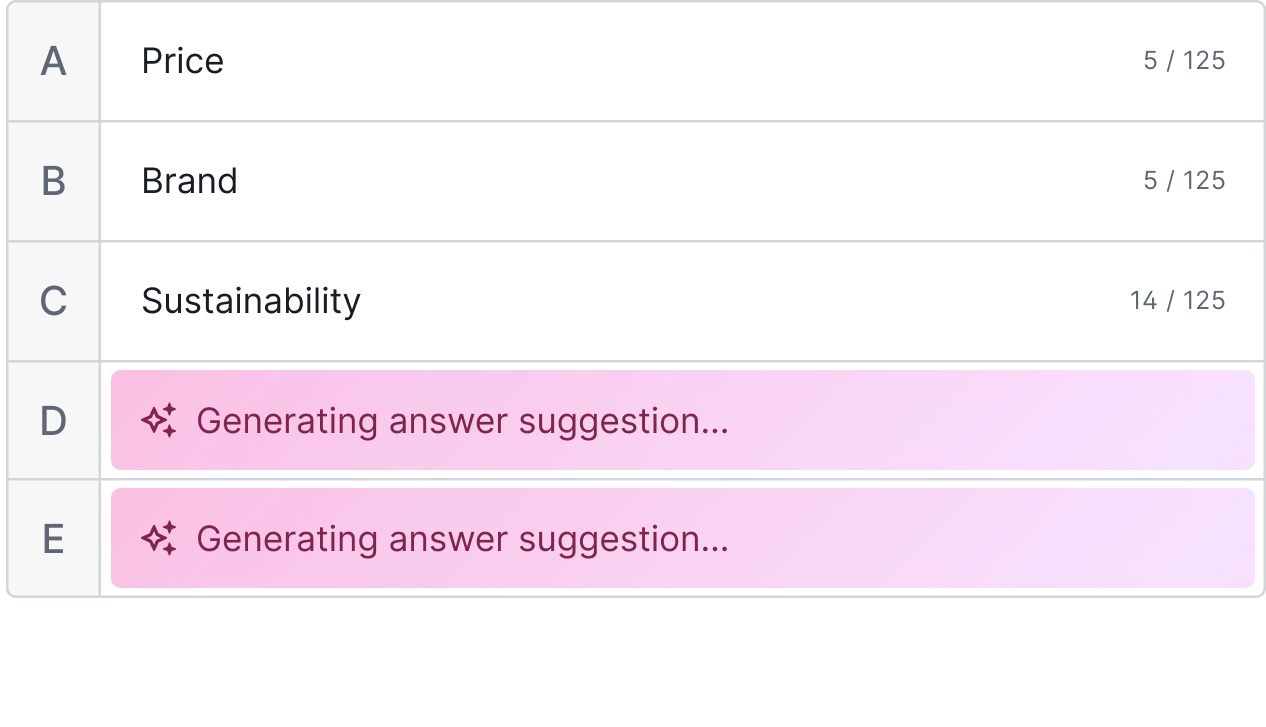 Insights at a glance
Effortlessly generate insights for your questions by applying splits and filters, making survey analysis a breeze.

Discover what's next with Appinio AI
Build surveys with one-prompt

Start your survey journey with a single prompt, and let Appinio AI craft the initial draft for you to customize.

Master freetext insights

Move beyond isolated quotes and turn open text answers into a treasure trove of structured insights.

Unlock data insights with AI chatbot

Instant support for analyzing your survey results right in your Reports dashboard.

Executive summary of Boards

Get a full summary of the story you created in your Appinio Boards.
FAQs around AI
We fine-tune AI-models based on results of internal studies Appinio has collected over years. That way, the models we use learn from past surveys, and we can increase the quality of output.

Appinio doesn't send and store any client data to OpenAI's servers. Further, Appinio is not training any of the fine-tuned AI-models with client data. Appinio is using the OpenAI API to send survey questions and answers and according to OpenAI, the input is not used for training purposes of their services.

The AI allows Appinio's clients to: Create surveys by improving and proposing questions + answers, and draft surveys. Analyzing responses in the client's surveys is as well simplified with AI. Soon, the AI will also suggest additional suiting questions, create whole surveys based on initial research questions, and chat with survey data.

Appinio is using AI to analyze responses to open questions, and also uses advanced internally developed models to analyze unusual response patterns of participants. However, to ensure the highest quality when it comes to cleaning of data, Appinio continues to manually check responses in case they are not clearly identified as low-quality by the AI.

AI's ability to quickly generate high-quality reporting for different kinds of audiences will significantly reduce the workload for research departments. The automation of method selection and questionnaire creation will empower research departments to delegate more project execution to business partners and selected providers, further reducing their workload. AI-driven data analysis will reveal a wealth of signals and trends, leading to more follow-on projects aimed at a deeper understanding.

The AI transformation will widen the effectiveness gap between technologically advanced insights teams and those still reliant on legacy methods. This shift will accelerate the evolution of corporate market researchers into strategic consultants, fostering closer partnerships with research providers.

The AI shift in market research companies is poised to significantly boost efficiency, benefiting tech-savvy players. Smaller regional firms might encounter challenges due to cost and a lack of AI capabilities. AI automation will facilitate the merge between divided market segments, such as qualitative and quantitative research, resulting in reduced survey costs. The division between online and offline research will fade away as AI-powered platforms generate customized insights, reports, and automated follow-up analysis, making static PowerPoint presentations obsolete.
Like what you're seeing? Try it for yourself
See our platform in action

Experience real-time results

Explore reports & templates