What Is a Focus Group and How to Conduct It? (+ Examples)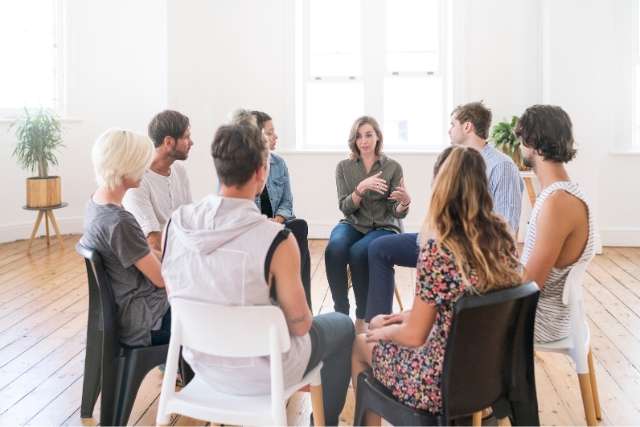 Have you ever wondered how businesses gain deep insights into consumer behavior, preferences, and opinions? Introducing focus groups—a powerful tool that unlocks the authentic voices of participants and reveals invaluable qualitative data.

In this guide, we'll walk you through every step of the focus group process, from meticulous planning and skillful moderation to insightful analysis and actionable recommendations. Whether you're a researcher, marketer, or decision-maker, this guide equips you with the knowledge and strategies to harness the potential of focus groups and make informed, impactful decisions.
What is a Focus Group?
At its core, a focus group is a structured conversation involving a small group of individuals who share their thoughts, feelings, and experiences regarding a particular subject. The primary purpose of a focus group is to uncover nuanced insights that might not emerge through other research methods. You're essentially providing a platform for participants to express themselves freely, leading to a richer, more holistic understanding of the topic.
Why are Focus Groups Important in Market Research?
Focus groups play a pivotal role in market research. They allow you to delve into consumers' motivations, desires, and pain points, helping businesses tailor their products and services to better meet customer needs. Unlike quantitative data, focus groups provide qualitative context, shedding light on "why" people feel the way they do.
Focus groups serve as invaluable tools for gaining insights into people's opinions, attitudes, and perceptions. They bring together a diverse group of participants to engage in open discussions on a specific topic, offering qualitative data that goes beyond quantitative surveys.
Benefits of Conducting Focus Groups
Conducting focus groups offers a range of benefits that contribute to informed decision-making and improved outcomes:
Rich Insights: Focus groups elicit detailed responses, offering a deeper understanding of participants' perspectives.
Real-time Interaction: Observing participants' interactions in real-time provides valuable non-verbal cues that text-based surveys can't capture.
Group Dynamics: Group discussions can stimulate new ideas as participants bounce thoughts off each other.
Uncovering Unconscious Factors: Focus groups can reveal subconscious opinions or emotions that participants might not even be aware of.
How to Set Up a Focus Group?
Before you embark on your focus group journey, thorough planning and meticulous preparation are crucial to ensuring the success of your sessions. Let's delve deeper into each step of this vital phase.
1. Identify Research Objectives
Research objectives serve as the compass guiding your focus group sessions. Clearly define what you aim to achieve through these discussions. Are you seeking insights into customer preferences, testing a new product concept, or exploring perceptions of a brand? Align your objectives with the overarching goals of your research to maintain focus and relevance.
2. Select Participant Demographics
Choosing the right participants is instrumental in obtaining diverse and representative insights. Consider the characteristics that are relevant to your research objectives. These may include:
Age
Gender
Location
Income level
Education
Occupation
By selecting participants who mirror your target audience, you enhance the accuracy and applicability of your findings.
3. Recruit Participants
Effective participant recruitment is crucial for the success of your focus groups. Utilize various channels such as social media, online forums, email lists, and professional networks. Craft clear and compelling recruitment messages that communicate the focus group's purpose and participation benefits. Ensure that participants are genuinely interested, reliable, and willing to engage in open discussions.
4. Create Discussion Guidelines
Discussion guidelines provide structure to your focus group sessions while allowing for spontaneous conversations. Clearly outline the scope of the discussion, the key topics you intend to cover, and any specific areas of interest. Having a flexible framework ensures that discussions remain on track while permitting organic exploration of the subject matter.
5. Choose a Skilled Moderator
The role of the moderator is pivotal in shaping the dynamics and outcomes of your focus group. Opt for a skilled moderator who possesses strong facilitation and interpersonal skills. The moderator should be capable of guiding discussions, managing group dynamics, and ensuring that all participants have an equal opportunity to contribute. A skilled moderator can navigate unexpected twists in the conversation and encourage deeper insights.
How to Design a Focus Group?
Designing your focus group sessions requires thoughtful consideration of various elements to create an environment conducive to rich discussions.
1. Determine Group Size
The size of your focus group impacts the quality of interactions and the depth of insights. Aim for a balance between having a sufficiently diverse group and maintaining a manageable discussion. Generally, a group of 6 to 10 participants is optimal, allowing for a variety of viewpoints without overwhelming the conversation.
2. Select the Location
The choice of location plays a significant role, particularly for in-person focus groups. Select a comfortable and neutral venue that minimizes distractions and fosters open dialogue. If virtual sessions are more practical, ensure that the online platform is user-friendly and accessible to all participants, regardless of their technical proficiency.
3. Set the Duration
The duration of your focus group session impacts participant engagement and the quality of insights. Sessions typically last between 1 to 2 hours, striking a balance between allowing participants to delve into the topic without exhausting their attention spans. Longer sessions may lead to participant fatigue, which can hinder the quality of responses.
4. Prepare Stimuli (if applicable)
If your research involves presenting stimuli such as visuals, prototypes, or samples, careful preparation is essential. Ensure that your material is ready and relevant to the discussion topics. Stimuli can serve as conversation starters and tangible references for participants, enriching the depth of their responses.
5. Develop Open-Ended Questions
Crafting open-ended questions is an art that drives meaningful conversations. These questions encourage participants to openly share their thoughts, feelings, and experiences. Avoid closed-ended or leading questions, as they limit the scope of responses. Developing thoughtful and open-ended prompts creates opportunities for participants to express themselves authentically.
As you move forward with your focus group journey, remember that every aspect of planning and designing contributes to the quality of insights you'll gain. Your meticulous preparation sets the stage for rich, valuable discussions that uncover nuances and perspectives that quantitative data alone can't provide.
How to Conduct a Focus Group?
With your meticulous planning in place, it's time to bring your focus group to life. Conducting a focus group involves skillful facilitation, attentive moderation, and the ability to navigate diverse perspectives.
Let's explore the intricacies of this process and how to ensure a successful session.
Icebreaker Activities
Begin your focus group session with engaging icebreaker activities. Icebreakers serve multiple purposes, from easing participants into the conversation to creating a comfortable atmosphere for open sharing.
Some common icebreaker activities include:
Introduction Round: Have each participant introduce themselves, sharing their name, background, and a fun fact related to the topic.
"Two Truths and a Lie": Participants share two factual statements and one false statement about themselves, prompting discussion as others guess the lie.
Establishing Group Norms
Setting clear group norms from the outset creates a respectful and productive discussion environment. Norms ensure participants feel valued, heard, and safe sharing their viewpoints.
Active Listening: Encourage attentive listening by asking participants to refrain from interrupting while others speak.
Respectful Interaction: Emphasize the importance of respectful disagreement and constructive feedback.
Confidentiality: Stress that participants should keep the discussion content confidential, fostering an environment of trust.
Equal Participation: Encourage balanced participation by ensuring everyone has a chance to share their thoughts.
Moderator's Role and Techniques
The role of the moderator is pivotal in guiding discussions while maintaining a balanced and focused conversation. A skilled moderator employs various techniques to facilitate meaningful interactions:
Active Listening: The moderator listens attentively to participants' responses, demonstrating that their opinions are valued.
Probing: The moderator asks follow-up questions to dig deeper into participants' responses and uncover underlying motivations.
Reflection: Summarizing participants' contributions shows that their thoughts are being accurately captured.
Redirecting: If discussions veer off-topic, the moderator gently guides the conversation back to the main subject.
Encouraging Balanced Participation
Balanced involvement ensures that all participants have the opportunity to contribute. Some individuals naturally dominate discussions, while others might hesitate to speak up.
Techniques to encourage balanced participation include:
Direct Questions: Address specific questions to participants who haven't spoken much, inviting their input.
Round-Robin Sharing: Go around the group, giving each participant a chance to share their thoughts on a particular topic.
Thought Pairing: Ask participants to pair up and share their perspectives with a partner before sharing with the larger group.
Probing for Deeper Insights
As discussions progress, employing probing techniques helps uncover deeper insights beneath surface-level responses. Probing involves asking follow-up questions that encourage participants to elaborate on their thoughts and feelings:
"Why" Questions: Ask participants to explain the reasoning behind their opinions. For example, "Why do you think this approach would be effective?"
"Tell Me More" Prompt: Encourage participants to elaborate by simply asking them to share more details about a specific point they made.
Hypothetical Scenarios: Present hypothetical scenarios related to the topic and ask participants how they would respond, leading to more nuanced insights.
By skillfully employing these techniques, you can create an environment where participants feel comfortable expressing their opinions and where discussions naturally flow, leading to in-depth insights that you can later analyze.
How to Collect Focus Group Data?
With your focus group sessions successfully conducted, the next phase involves extracting meaningful insights from the rich discussions. We'll look at popular data collection and analysis methods to ensure that your findings are both accurate and actionable.
Recording and Transcribing Sessions
Recording focus group sessions is essential to capture participants' responses in their own words and preserve the nuances of the conversation.
Recording: Use audio or video recording equipment to capture the entire discussion. Ensure that participants are comfortable with being recorded and understand the purpose of the recording.
Transcribing: Transcribe the recorded sessions verbatim. Transcriptions provide a textual version of the discussions, which is easier to review and analyze.
Identifying Key Themes and Patterns
As you review the transcribed discussions, focus on identifying emerging themes and patterns. Themes are recurring topics or ideas that participants discuss, while patterns involve the connections between these themes. Look for insights that align with your research objectives.
Open Coding: Start with open coding, where you assign preliminary labels to sections of the text corresponding to certain themes.
Axial Coding: Organize the open codes into broader categories or themes, establishing relationships between them.
Selective Coding: Refine the codes further, focusing on the most significant themes and their connections.
Coding and Categorizing Responses
Coding and categorization involve systematically organizing participants' responses based on identified themes and patterns. This process allows you to aggregate and compare the data, making it easier to draw conclusions.
Codebook Development: Create a codebook that outlines the themes, definitions, and examples for each code.
Applying Codes: Read through the transcribed data and apply the relevant codes to sections corresponding to each theme.
Categorization: Group similar codes together to form categories that encapsulate broader concepts.
Using Qualitative Analysis Software
Qualitative analysis software can streamline the process of coding, categorization, and data management. Platforms like Appinio offer features that enhance the efficiency and accuracy of your analysis:
Code Management: Software allows you to easily create, apply, and modify codes.
Search and Retrieval: Quickly search for specific keywords or themes within the transcribed data.
Visualization: Some tools provide visual representations of the data, making it easier to identify patterns and trends.
Extracting Actionable Insights
From the coded and categorized data, you can extract actionable insights that inform decision-making. These insights are drawn from the participants' perspectives and can lead to improvements in products, services, or strategies:
Quoting Participant Responses: Use direct quotes from participants to illustrate key points and provide authenticity to your findings.
Patterns and Trends: Identify overarching patterns and trends that provide a holistic understanding of participants' opinions.
Identify Opportunities: Look for opportunities for innovation, improvements, or addressing pain points that participants highlight.
By meticulously analyzing the transcribed data and extracting meaningful insights, you bridge the gap between raw conversation and actionable recommendations that can drive positive change.
How to Analyze Focus Group Data?
As you move into the interpretation and reporting phase of your focus group research, you'll synthesize the gathered insights into a coherent narrative. Here's how you can effectively interpret and communicate your findings to various stakeholders.
1. Summarize Findings
Summarizing the key findings of your focus group sessions provides a concise overview of the insights gathered. Focus on the most salient themes, patterns, and opinions that emerged during the discussions. This summary sets the stage for more in-depth exploration in the subsequent sections.
2. Relate Findings to Research Objectives
Connect the dots between your findings and the initial research objectives you established. Highlight how each identified theme or pattern addresses specific research goals. This linkage reinforces the relevance of your insights and underscores the value of your focus group research.
3. Provide Rich Descriptions
Enrich your report with detailed descriptions of participants' responses. These descriptions add depth and context to your findings, helping stakeholders understand the nuances of participants' opinions and perspectives. Paint a vivid picture of the discussions to ensure your audience gains a comprehensive understanding.
4. Incorporate Participant Quotes
Incorporating direct quotes from participants adds authenticity and humanizes your findings. Quotes allow stakeholders to hear participants' voices firsthand, making the insights more relatable. Select quotes that encapsulate key points, emotions, or unique perspectives shared during the focus group discussions.
5. Make Data-Driven Recommendations
Formulate actionable recommendations based on the insights extracted from your focus group data. These recommendations should be grounded in the participants' perspectives and aligned with your research objectives. Whether refining a marketing strategy, modifying a product feature, or enhancing customer service, your recommendations should be informed and practical.
How to Lead a Focus Group?
Conducting focus groups comes with its own set of challenges. By adhering to best practices, you can navigate these challenges effectively and ensure the integrity of your research.
Ensure Objectivity and Impartiality: Maintain objectivity throughout your focus group research. As the moderator, your role is facilitating discussions, not influencing outcomes. Avoid expressing personal opinions or steering the conversation in a particular direction.
Minimize Groupthink and Bias: Be vigilant about group dynamics that might lead to groupthink, where participants conform to the majority opinion. Encourage diverse viewpoints and foster an environment where participants feel comfortable expressing dissenting views.
Deal with Dominant Participants: In some focus groups, specific individuals may dominate the conversation. Gently redirect the discussion to ensure all participants have an equal contribution opportunity. Use techniques like directly addressing quieter participants for their input.
Address Sensitive Topics: When discussing sensitive topics, create a supportive and nonjudgmental environment. Approach these discussions with empathy and use considerate language. Clearly communicate that participants are free to share their thoughts without fear of judgment.
Adapt to Virtual Focus Groups: Virtual focus groups offer convenience but present unique challenges. Ensure participants are comfortable with the technology and provide clear instructions for joining the virtual session. Be prepared to troubleshoot technical issues that may arise.
Navigating these best practices and challenges ensures that your focus group research is conducted ethically, rigorously, and effectively.
Focus Group Examples
Let's explore how focus groups can be applied across various domains to extract valuable insights and drive informed decisions.
Example 1: SaaS Product Development
Imagine a SaaS company aiming to enhance its project management software. To gather insights for improvements, they conduct a focus group with current users:
Planning: The company identifies research objectives, including user experience enhancement and feature preferences.
Participants: They recruit a diverse group of existing users, ranging from freelancers to project managers.
Discussion: The focus group discusses pain points, desired features, and overall user satisfaction.
Analysis: The company analyzes transcribed discussions, identifying recurring themes like seamless collaboration and customizable dashboards.
Insights: These insights lead to data-driven decisions, resulting in feature updates like improved collaboration tools and a user-customizable interface.
Example 2: Business Strategy Alignment
A retail chain considers expanding its product offerings. To align their business strategy with customer preferences, they conduct a focus group:
Planning: The company defines research objectives to understand customer preferences and potential demand.
Participants: They select a mix of loyal and potential new customers from various demographics.
Discussion: The focus group explores participants' shopping habits, preferences, and thoughts on the proposed products.
Analysis: The company identifies patterns, discovering that participants value eco-friendly products and unique offerings.
Insights: Equipped with insights, the retail chain refines its expansion strategy to include sustainable products and innovative offerings, resonating with customer expectations.
Example 3: Academic Research
An academic researcher is exploring attitudes toward online learning. They decide to use focus groups to delve into students' perspectives:
Planning: The researcher outlines research objectives centered around understanding students' experiences with online learning.
Participants: A mix of online and in-person students with varying academic backgrounds and preferences.
Discussion: The focus group conversations revolve around challenges, advantages, and suggestions for enhancing online education.
Analysis: The researcher uncovers recurring themes, such as the importance of interactive content and effective communication.
Insights: The researcher contributes to developing more engaging online courses, prioritizing interactive elements and clear communication channels.
These examples showcase the versatility of focus groups in capturing nuanced insights across diverse domains. Whether it's shaping software features, refining business strategies, or informing academic research, focus groups provide a platform to tap into authentic participant perspectives, resulting in well-informed decisions and strategies.
Conclusion
Focus groups are not just discussions—they're windows into understanding, catalysts for improvement, and sources of innovation. Following the steps outlined in this guide, you've gained the tools to orchestrate meaningful conversations, extract nuanced insights, and translate those insights into actionable recommendations. Remember, each participant's voice adds a unique brushstroke to the canvas of insights, and your role as a skilled moderator brings those brushstrokes to life.
As you venture into focus groups, approach each session with curiosity and openness. Listen actively, probe gently, and navigate group dynamics with finesse. Whether you're fine-tuning a marketing campaign, shaping the next product iteration, or charting the course for your organization's future, the authentic perspectives gathered through focus groups will guide your way. Embrace the art of facilitation, savor the richness of discussion, and let the insights gained propel you toward confident decisions and successful outcomes. Your commitment to the power of dialogue ensures that participants' voices continue to shape meaningful change.
How to Conduct a Focus Group in Minutes?
Discover the revolutionary way to conduct focus groups and gain invaluable insights in just minutes. Appinio, a dynamic real-time market research platform, empowers companies to tap into consumer perspectives swiftly and effectively.
By handling the research and technology complexities, Appinio frees you to focus on what truly matters – swift, data-driven decision-making. Uncover the excitement of seamless integration, intuitive processes, and lightning-fast answers to fuel your business success.
Why Appinio?
Transformative Speed: From questions to insights in minutes, Appinio ensures rapid access to the consumer pulse.
Seamless Integration: Integrate real-time consumer insights seamlessly into everyday decision-making.
Empower Your Choices: Embrace the power of data-driven decisions without the hassle of traditional research methods.
Join the loop 💌
Be the first to hear about new updates, product news, and data insights. We'll send it all straight to your inbox.
Subscribe to our newsletter