What Is Secondary Research? Types, Methods, Examples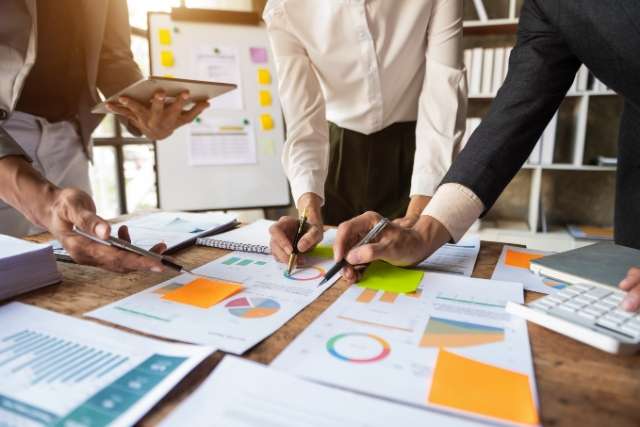 Have you ever wondered how researchers gather valuable insights without conducting new experiments or surveys? That's where secondary research steps in—a powerful approach that allows us to explore existing data and information others collect.
Whether you're a student, a professional, or someone seeking to make informed decisions, understanding the art of secondary research opens doors to a wealth of knowledge.
What is Secondary Research?
Secondary Research refers to the process of gathering and analyzing existing data, information, and knowledge that has been previously collected and compiled by others. This approach allows researchers to leverage available sources, such as articles, reports, and databases, to gain insights, validate hypotheses, and make informed decisions without collecting new data.
Benefits of Secondary Research
Secondary research offers a range of advantages that can significantly enhance your research process and the quality of your findings.
Time and Cost Efficiency:

Secondary research saves time and resources by utilizing existing data sources, eliminating the need for data collection from scratch.

Wide Range of Data:

Secondary research provides access to vast information from various sources, allowing for comprehensive analysis.

Historical Perspective:

Examining past research helps identify trends, changes, and long-term patterns that might not be immediately apparent.

Reduced Bias:

As data is collected by others, there's often less inherent bias than in conducting primary research, where biases might affect data collection.

Support for Primary Research:

Secondary research can lay the foundation for primary research by providing context and insights into gaps in existing knowledge.

Comparative Analysis:

By integrating data from multiple sources, you can conduct robust comparative analyses for more accurate conclusions.

Benchmarking and Validation:

Secondary research aids in benchmarking performance against industry standards and validating hypotheses.
Primary Research vs. Secondary Research
When it comes to research methodologies, primary and secondary research each have their distinct characteristics and advantages. Here's a brief comparison to help you understand the differences.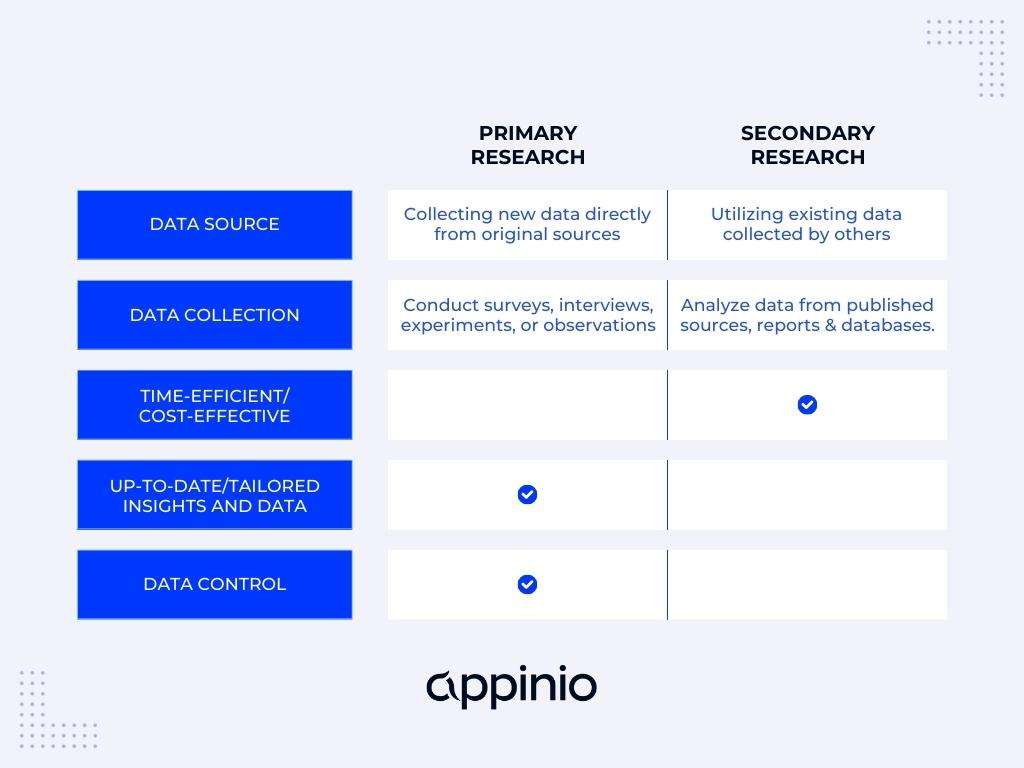 Primary Research
Data Source: Involves collecting new data directly from original sources.
Data Collection: Researchers design and conduct surveys, interviews, experiments, or observations.
Time and Resources: Typically requires more time, effort, and resources due to data collection.
Fresh Insights: Provides firsthand, up-to-date information tailored to specific research questions.
Control: Researchers control the data collection process and can shape methodologies.
Secondary Research
Data Source: Involves utilizing existing data and information collected by others.
Data Collection: Researchers search, select, and analyze data from published sources, reports, and databases.
Time and Resources: Generally more time-efficient and cost-effective as data is already available.
Existing Knowledge: Utilizes data that has been previously compiled, often providing broader context.
Less Control: Researchers have limited control over how data was collected originally, if any.
Choosing between primary and secondary research depends on your research objectives, available resources, and the depth of insights you require.
Types of Secondary Research
Secondary research encompasses various types of existing data sources that can provide valuable insights for your research endeavors. Understanding these types can help you choose the most relevant sources for your objectives.
Here are the primary types of secondary research:
Internal Sources
Internal sources consist of data generated within your organization or entity. These sources provide valuable insights into your own operations and performance.
Company Records and Data: Internal reports, documents, and databases that house information about sales, operations, and customer interactions.
Sales Reports and Customer Data: Analysis of past sales trends, customer demographics, and purchasing behavior.
Financial Statements and Annual Reports: Financial data, such as balance sheets and income statements, offer insights into the organization's financial health.
External Sources
External sources encompass data collected and published by entities outside your organization.
These sources offer a broader perspective on various subjects.
Published Literature and Journals: Scholarly articles, research papers, and academic studies available in journals or online databases.
Market Research Reports: Reports from market research firms that provide insights into industry trends, consumer behavior, and market forecasts.
Government and NGO Databases: Data collected and maintained by government agencies and non-governmental organizations, offering demographic, economic, and social information.
Online Media and News Articles: News outlets and online publications that cover current events, trends, and societal developments.
Each type of secondary research source holds its value and relevance, depending on the nature of your research objectives. Combining these sources lets you understand the subject matter and make informed decisions.
How to Conduct Secondary Research?
Effective secondary research involves a thoughtful and systematic approach that enables you to extract valuable insights from existing data sources. Here's a step-by-step guide on how to navigate the process:
1. Define Your Research Objectives
Before delving into secondary research, clearly define what you aim to achieve. Identify the specific questions you want to answer, the insights you're seeking, and the scope of your research.
2. Identify Relevant Sources
Begin by identifying the most appropriate sources for your research. Consider the nature of your research objectives and the data type you require. Seek out sources such as academic journals, market research reports, official government databases, and reputable news outlets.
3. Evaluate Source Credibility
Ensuring the credibility of your sources is crucial. Evaluate the reliability of each source by assessing factors such as the author's expertise, the publication's reputation, and the objectivity of the information provided. Choose sources that align with your research goals and are free from bias.
4. Extract and Analyze Information
Once you've gathered your sources, carefully extract the relevant information. Take thorough notes, capturing key data points, insights, and any supporting evidence. As you accumulate information, start identifying patterns, trends, and connections across different sources.
5. Synthesize Findings
As you analyze the data, synthesize your findings to draw meaningful conclusions. Compare and contrast information from various sources to identify common themes and discrepancies. This synthesis process allows you to construct a coherent narrative that addresses your research objectives.
6. Address Limitations and Gaps
Acknowledge the limitations and potential gaps in your secondary research. Recognize that secondary data might have inherent biases or be outdated. Where necessary, address these limitations by cross-referencing information or finding additional sources to fill in gaps.
7. Contextualize Your Findings
Contextualization is crucial in deriving actionable insights from your secondary research. Consider the broader context within which the data was collected. How does the information relate to current trends, societal changes, or industry shifts? This contextual understanding enhances the relevance and applicability of your findings.
8. Cite Your Sources
Maintain academic integrity by properly citing the sources you've used for your secondary research. Accurate citations not only give credit to the original authors but also provide a clear trail for readers to access the information themselves.
9. Integrate Secondary and Primary Research (If Applicable)
In some cases, combining secondary and primary research can yield more robust insights. If you've also conducted primary research, consider integrating your secondary findings with your primary data to provide a well-rounded perspective on your research topic.
You can use a market research platform like Appinio to conduct primary research with real-time insights in minutes!
10. Communicate Your Findings
Finally, communicate your findings effectively. Whether it's in an academic paper, a business report, or any other format, present your insights clearly and concisely. Provide context for your conclusions and use visual aids like charts and graphs to enhance understanding.
Remember that conducting secondary research is not just about gathering information—it's about critically analyzing, interpreting, and deriving valuable insights from existing data. By following these steps, you'll navigate the process successfully and contribute to the body of knowledge in your field.
Secondary Research Examples
To better understand how secondary research is applied in various contexts, let's explore a few real-world examples that showcase its versatility and value.
Market Analysis and Trend Forecasting
Imagine you're a marketing strategist tasked with launching a new product in the smartphone industry. By conducting secondary research, you can:
Access Market Reports: Utilize market research reports to understand consumer preferences, competitive landscape, and growth projections.
Analyze Trends: Examine past sales data and industry reports to identify trends in smartphone features, design, and user preferences.
Benchmark Competitors: Compare market share, customer satisfaction, and pricing strategies of key competitors to develop a strategic advantage.
Forecast Demand: Use historical sales data and market growth predictions to estimate demand for your new product.
Academic Research and Literature Reviews
Suppose you're a student researching climate change's effects on marine ecosystems. Secondary research aids your academic endeavors by:
Reviewing Existing Studies: Analyze peer-reviewed articles and scientific papers to understand the current state of knowledge on the topic.
Identifying Knowledge Gaps: Identify areas where further research is needed based on what existing studies still need to cover.
Comparing Methodologies: Compare research methodologies used by different studies to assess the strengths and limitations of their approaches.
Synthesizing Insights: Synthesize findings from various studies to form a comprehensive overview of the topic's implications on marine life.
Competitive Landscape Assessment for Business Strategy
Consider you're a business owner looking to expand your restaurant chain to a new location. Secondary research aids your strategic decision-making by:
Analyzing Demographics: Utilize demographic data from government databases to understand the local population's age, income, and preferences.
Studying Local Trends: Examine restaurant industry reports to identify the types of cuisines and dining experiences currently popular in the area.
Understanding Consumer Behavior: Analyze online reviews and social media discussions to gauge customer sentiment towards existing restaurants in the vicinity.
Assessing Economic Conditions: Access economic reports to evaluate the local economy's stability and potential purchasing power.
These examples illustrate the practical applications of secondary research across various fields to provide a foundation for informed decision-making, deeper understanding, and innovation.
Secondary Research Limitations
While secondary research offers many benefits, it's essential to be aware of its limitations to ensure the validity and reliability of your findings.
Data Quality and Validity: The accuracy and reliability of secondary data can vary, affecting the credibility of your research.
Limited Contextual Information: Secondary sources might lack detailed contextual information, making it important to interpret findings within the appropriate context.
Data Suitability: Existing data might not align perfectly with your research objectives, leading to compromises or incomplete insights.
Outdated Information: Some sources might provide obsolete information that doesn't accurately reflect current trends or situations.
Potential Bias: While secondary data is often less biased, biases might still exist in the original data sources, influencing your findings.
Incompatibility of Data: Combining data from different sources might pose challenges due to variations in definitions, methodologies, or units of measurement.
Lack of Control: Unlike primary research, you have no control over how data was collected or its quality, potentially affecting your analysis.

Understanding these limitations will help you navigate secondary research effectively and make informed decisions based on a well-rounded understanding of its strengths and weaknesses.
Conclusion
Secondary research is a valuable tool that businesses can use to their advantage. By tapping into existing data and insights, companies can save time, resources, and effort that would otherwise be spent on primary research. This approach equips decision-makers with a broader understanding of market trends, consumer behaviors, and competitive landscapes. Additionally, benchmarking against industry standards and validating hypotheses empowers businesses to make informed choices that lead to growth and success.
As you navigate the world of secondary research, remember that it's not just about data retrieval—it's about strategic utilization. With a clear grasp of how to access, analyze, and interpret existing information, businesses can stay ahead of the curve, adapt to changing landscapes, and make decisions that are grounded in reliable knowledge.
How to Conduct Secondary Research in Minutes?
In the world of decision-making, having access to real-time consumer insights is no longer a luxury—it's a necessity. That's where Appinio comes in, revolutionizing how businesses gather valuable data for better decision-making. As a real-time market research platform, Appinio empowers companies to tap into the pulse of consumer opinions swiftly and seamlessly.
Fast Insights: Say goodbye to lengthy research processes. With Appinio, you can transform questions into actionable insights in minutes.
Data-Driven Decisions: Harness the power of real-time consumer insights to drive your business strategies, allowing you to make informed choices on the fly.
Seamless Integration: Appinio handles the research and technical complexities, freeing you to focus on what truly matters: making rapid data-driven decisions that propel your business forward.
Join the loop 💌
Be the first to hear about new updates, product news, and data insights. We'll send it all straight to your inbox.